Regular price
Sale price
$34.99 USD
Unit price
per
Sale
Sold out
Offers the look and feel of an app but with the customization, stylus to tablet-feel of a traditional digital planner. Earn rewards, join a community, and plan your way.

What's Included

You will receive a download library PDF, which will walk you through how to access the Cyberry Community and download all the files included with your purchase:

◦ 2024 dated Sunday and Monday starts
◦ Nov-Dec 2023 "mini" Sunday and Monday starts
◦ Precropped GoodNotes stickers
◦ GoodNotes Elements collections
◦ Individual PNG files
◦ Planner covers
◦ App icons
Setup Video

Watch the full tutorials & setup guide for this planner before you buy
Tips for use

All you need in one place. Built with intuitive hyperlinks to easily navigate from page to page. Add what you need. Personalize it to make it yours.

Join the Community, and download additional free templates and rewards. The best part.
Refunds & Returns

Due to the digital nature of this product, refunds, returns, or exchanges will not be provided for any reason. Please double-check your cart before purchase.
Or try a different color...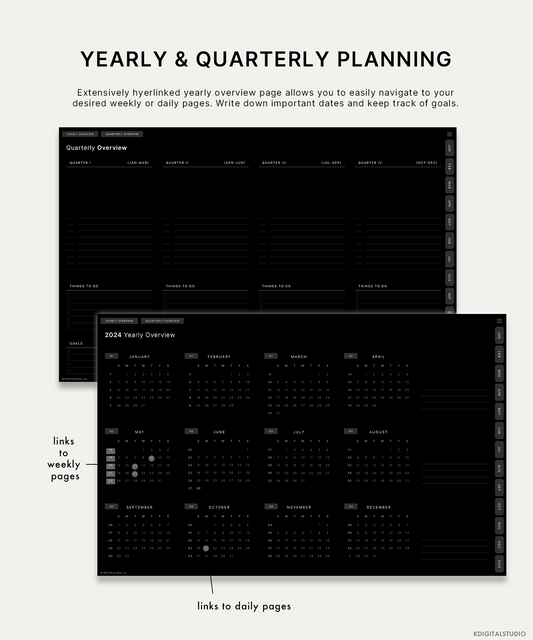 Regular price
From

$29.99 USD
Regular price
Sale price
From

$29.99 USD
Unit price
per
Share
View full details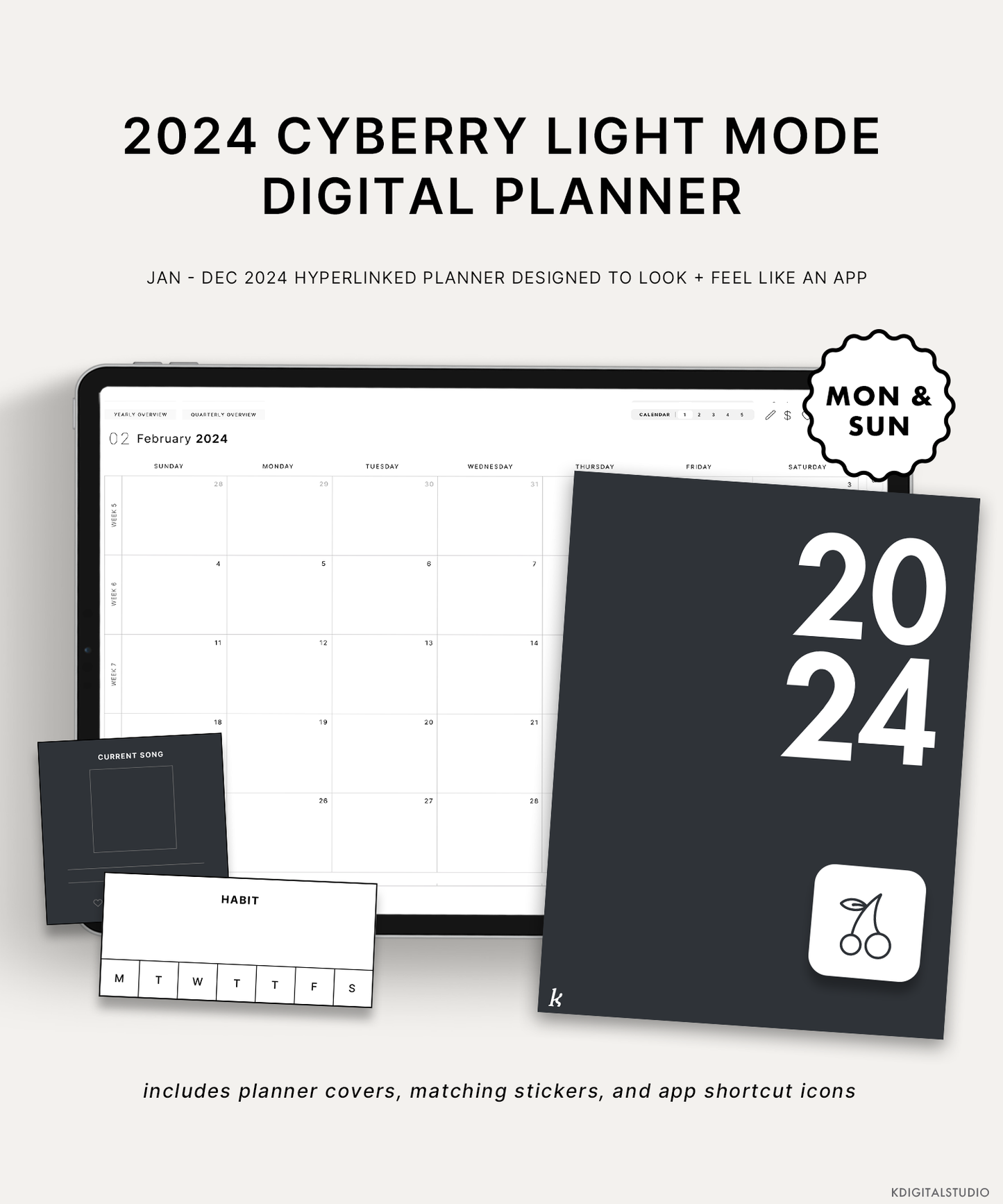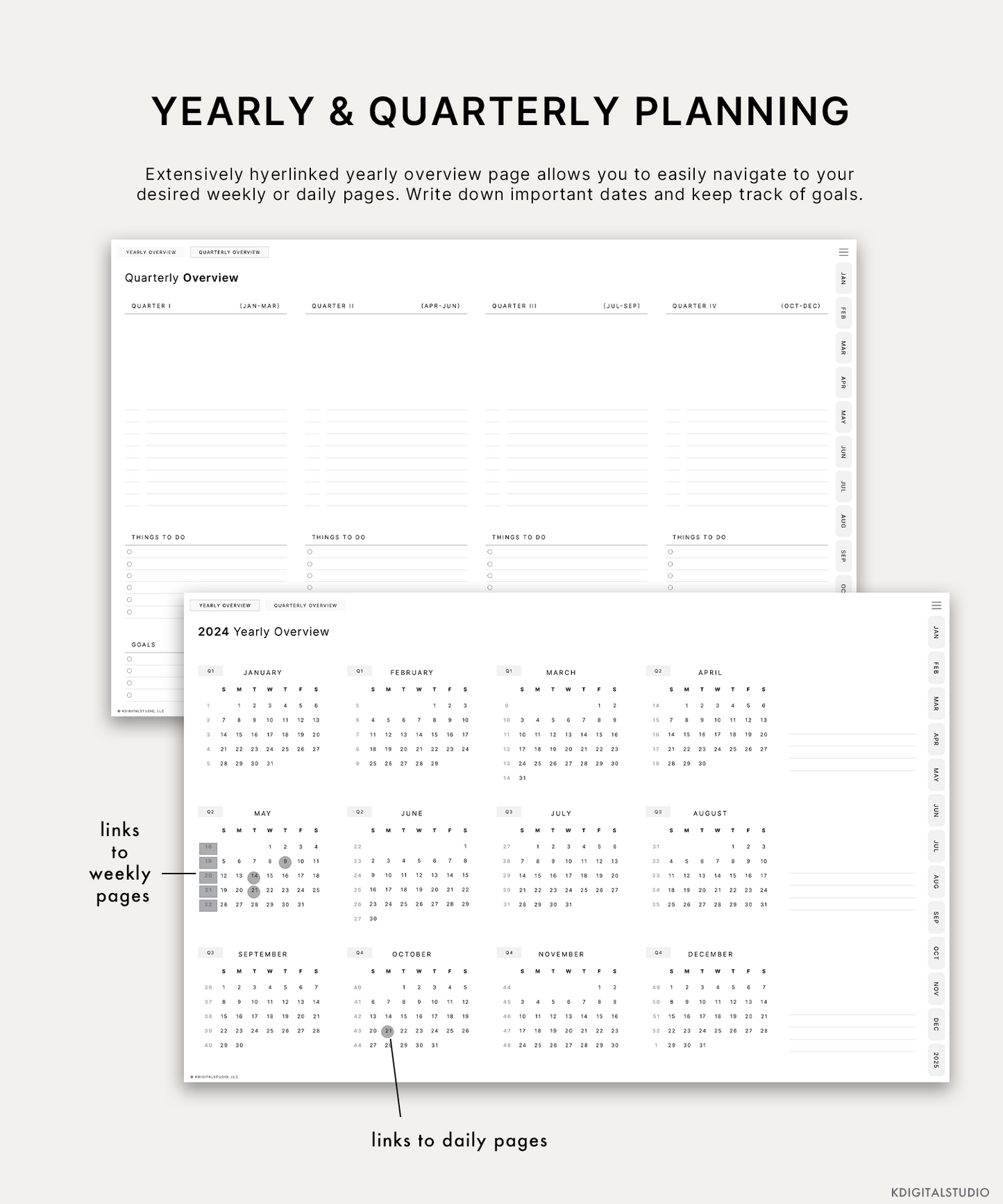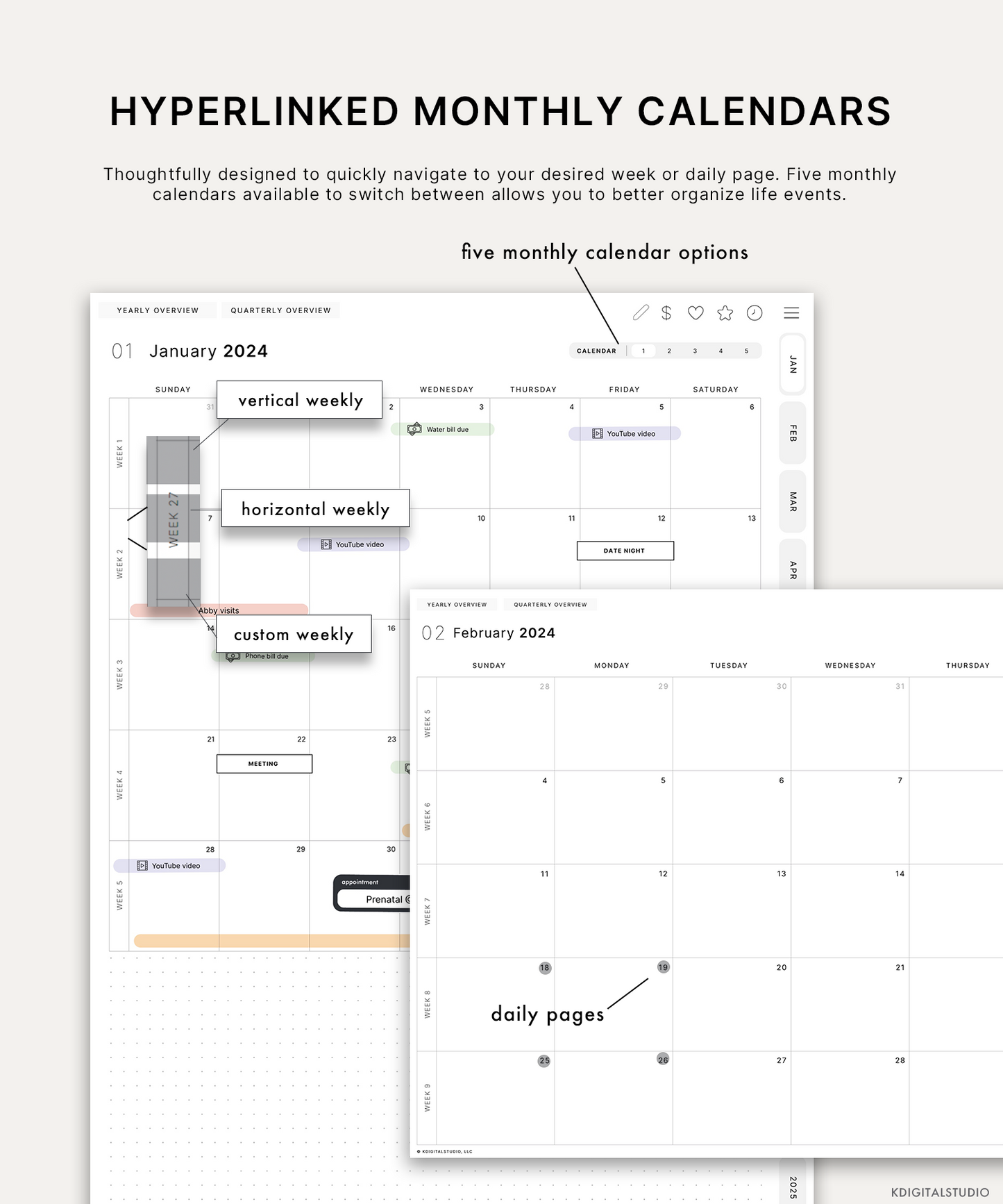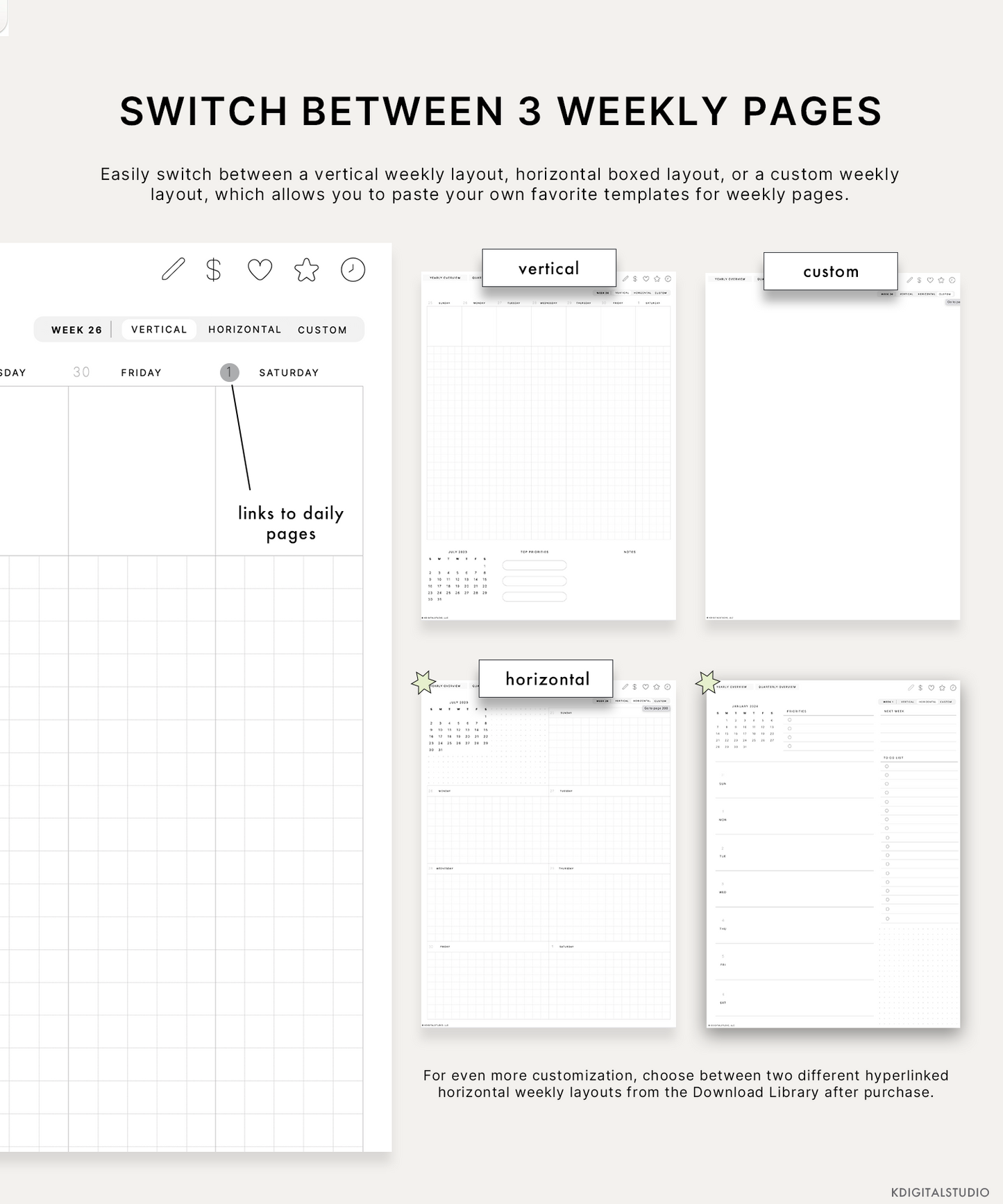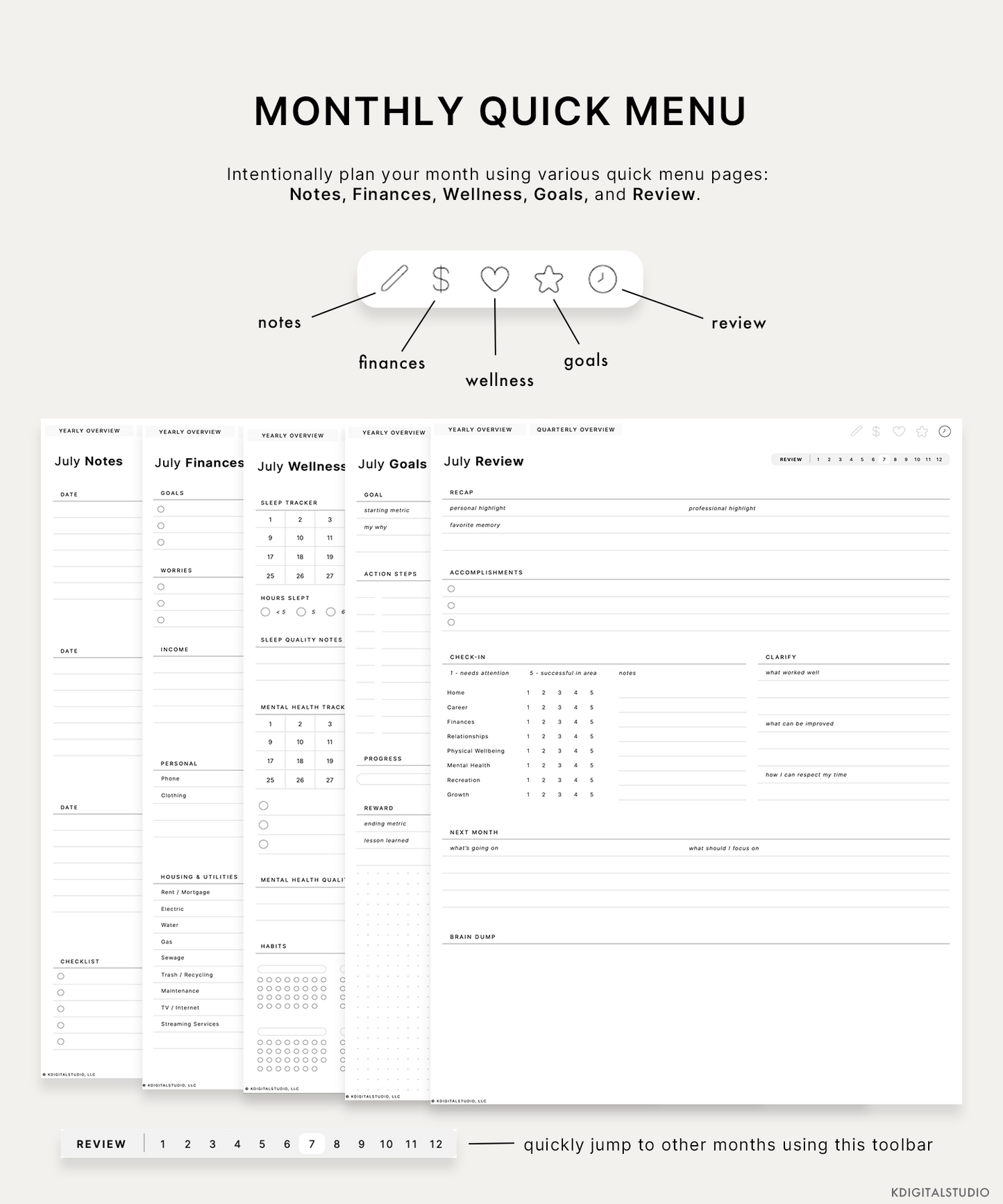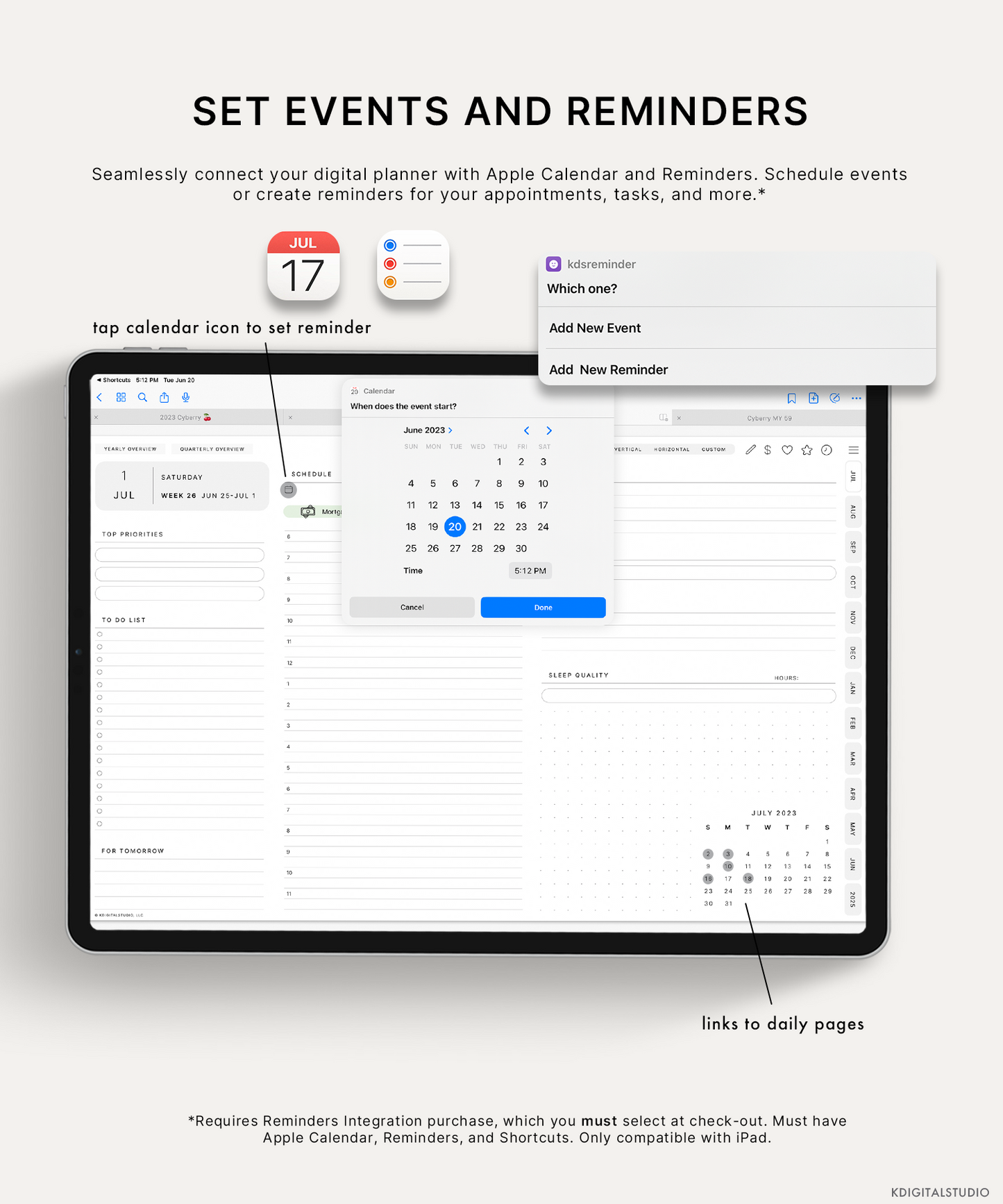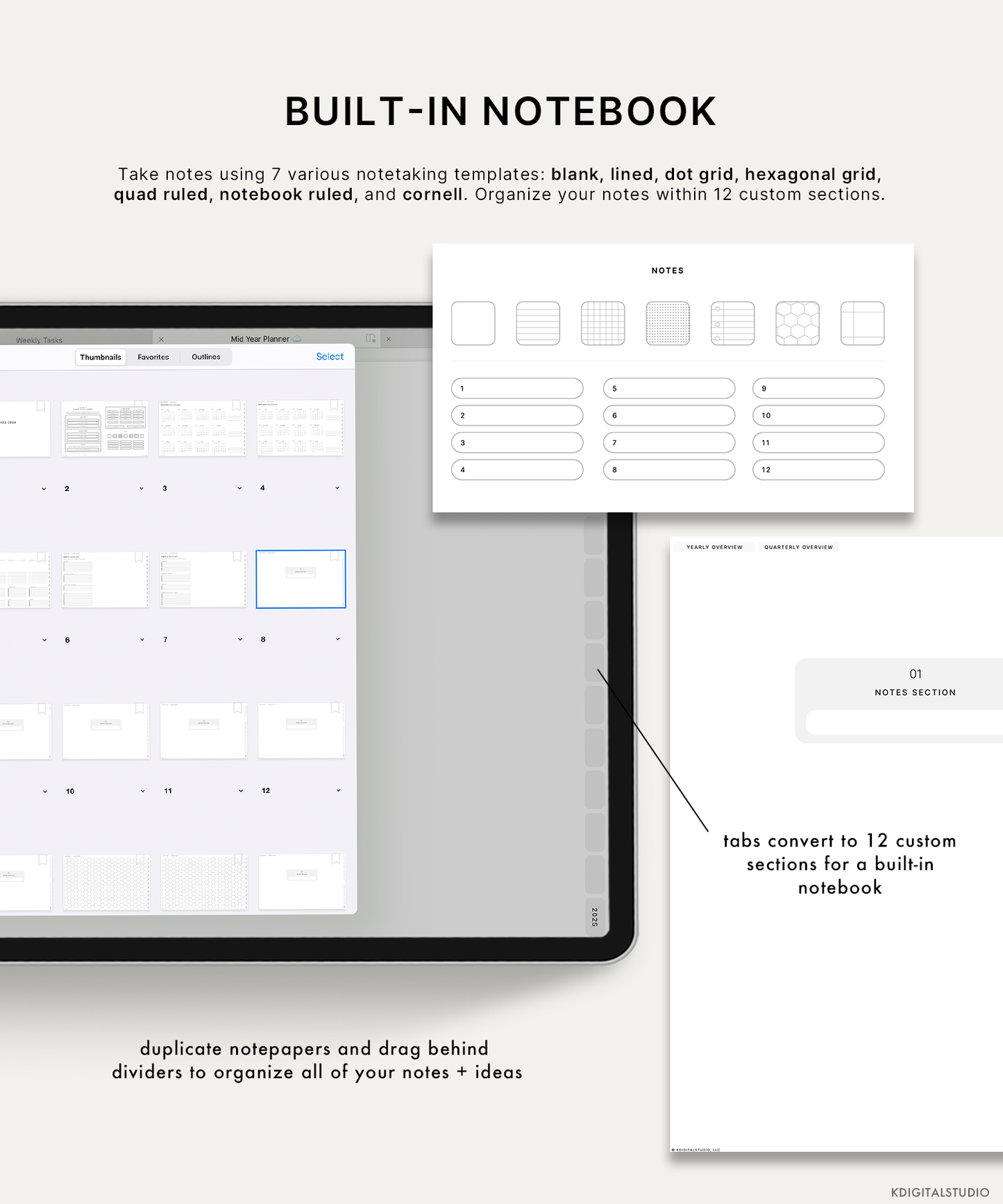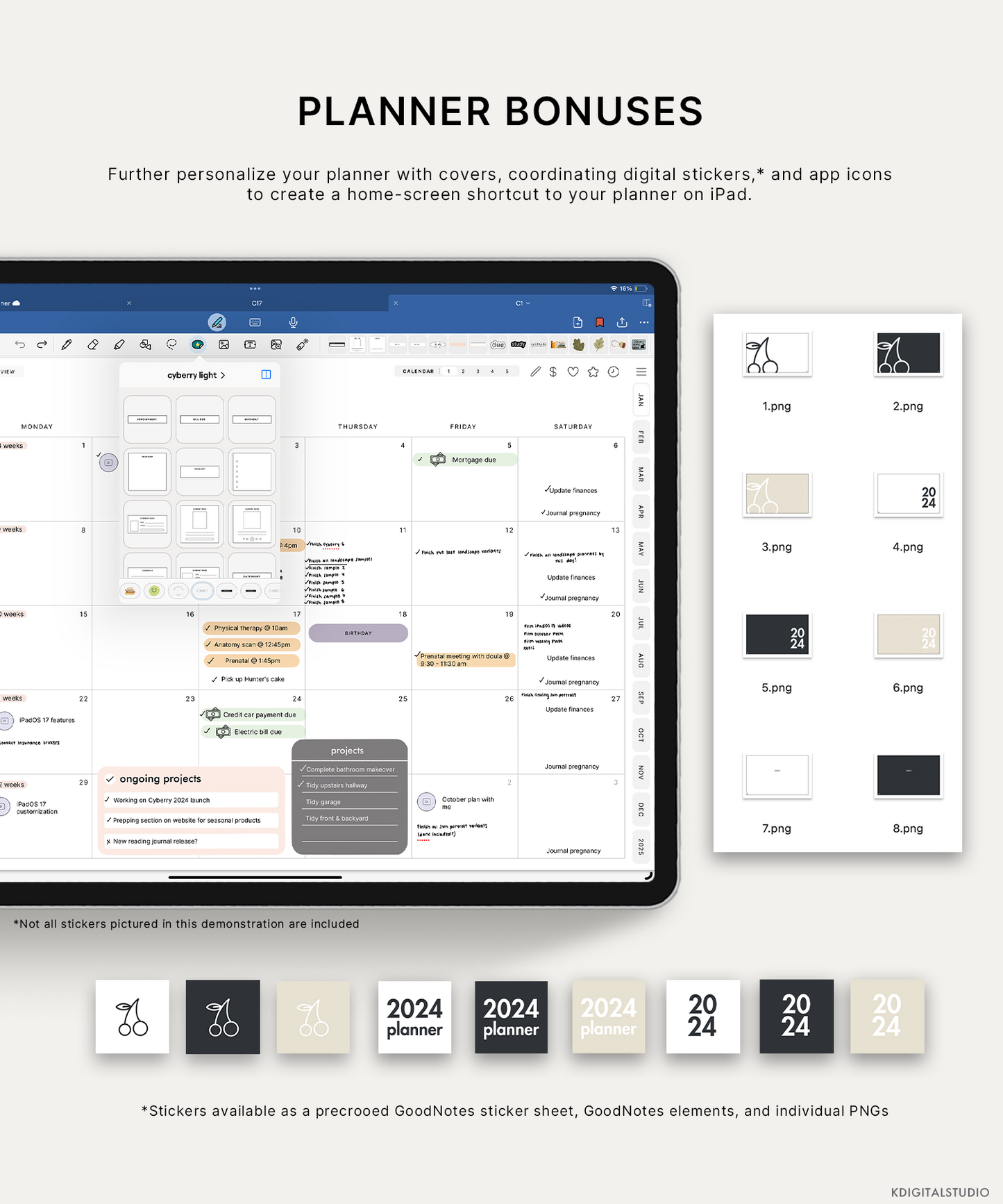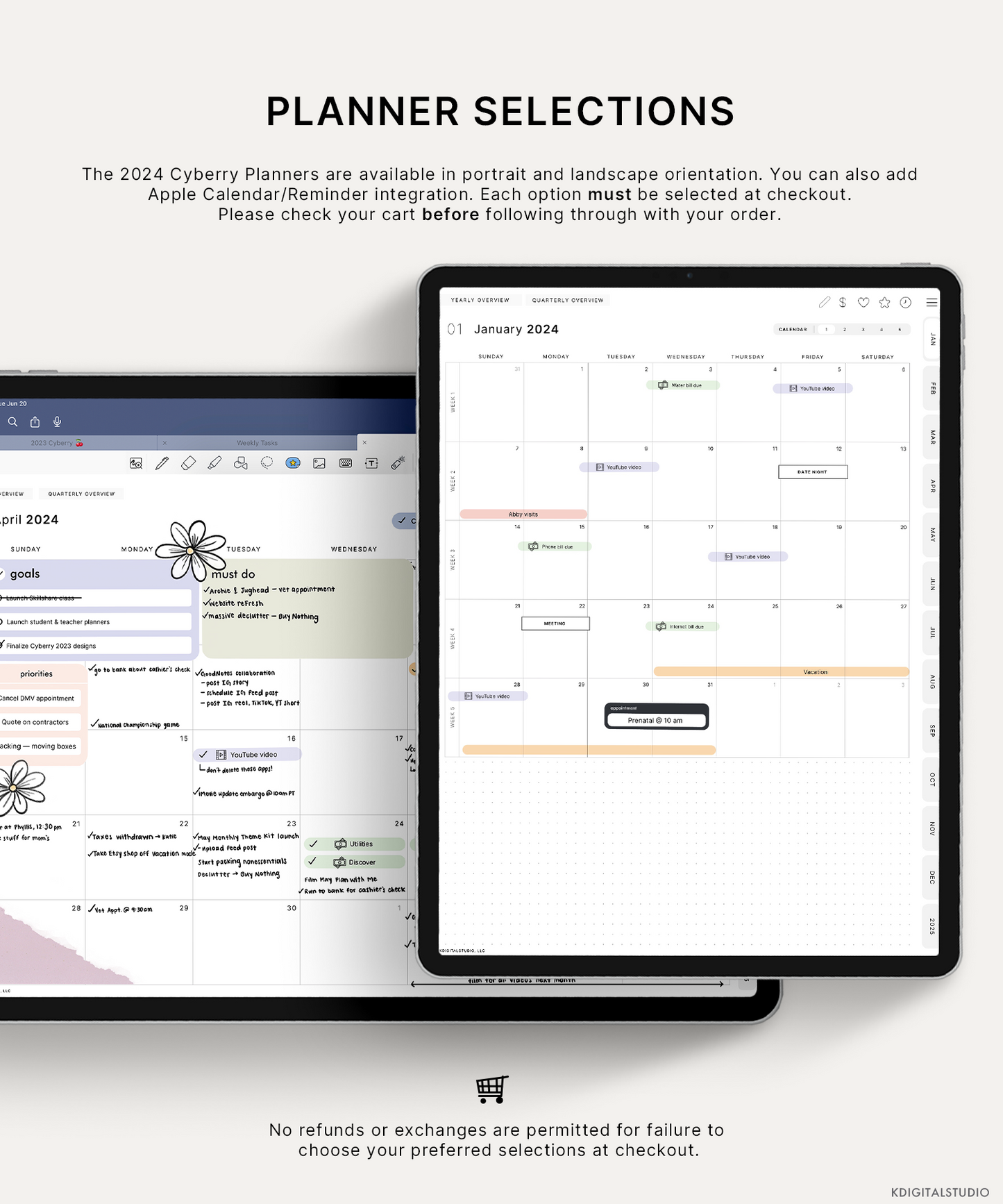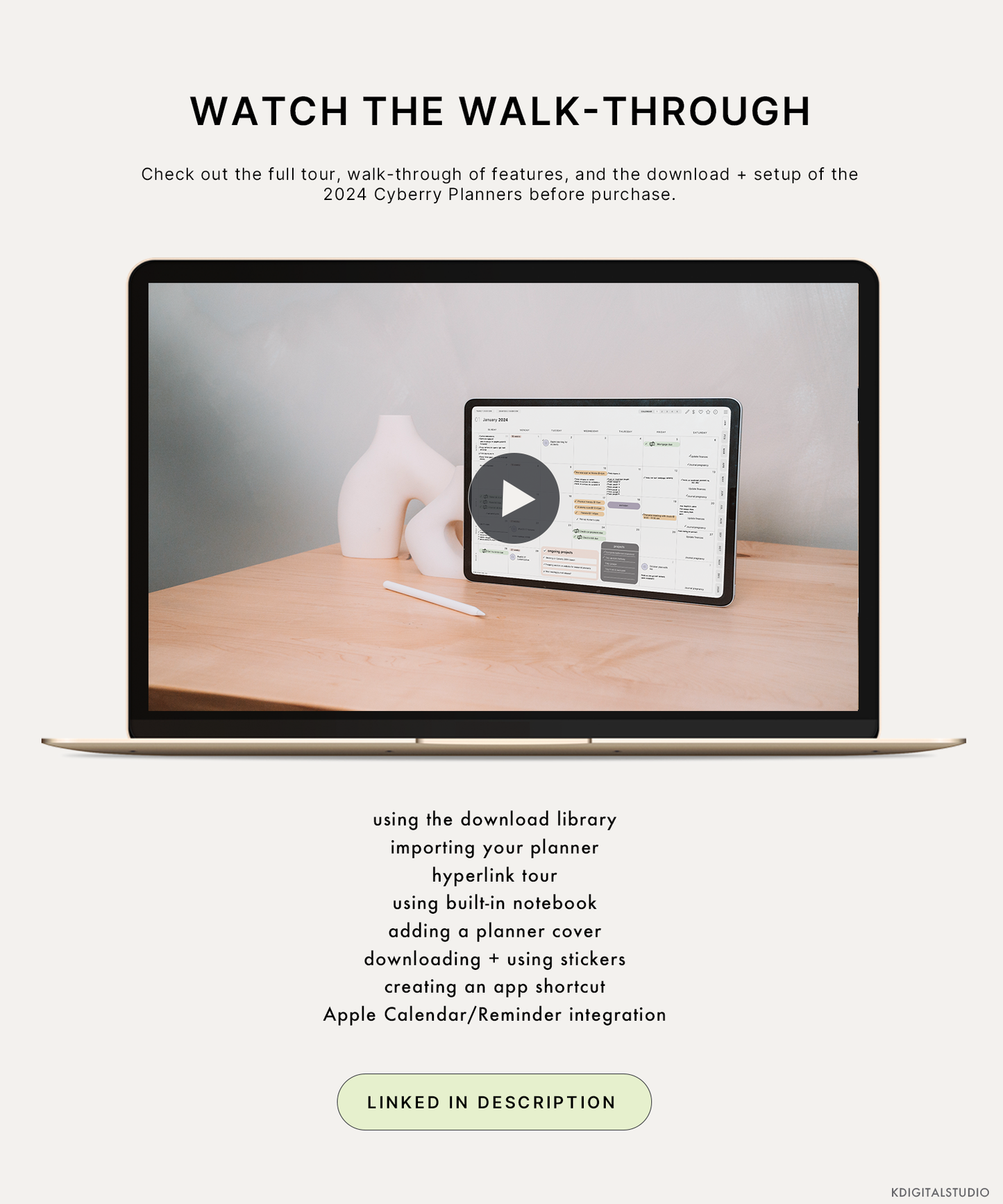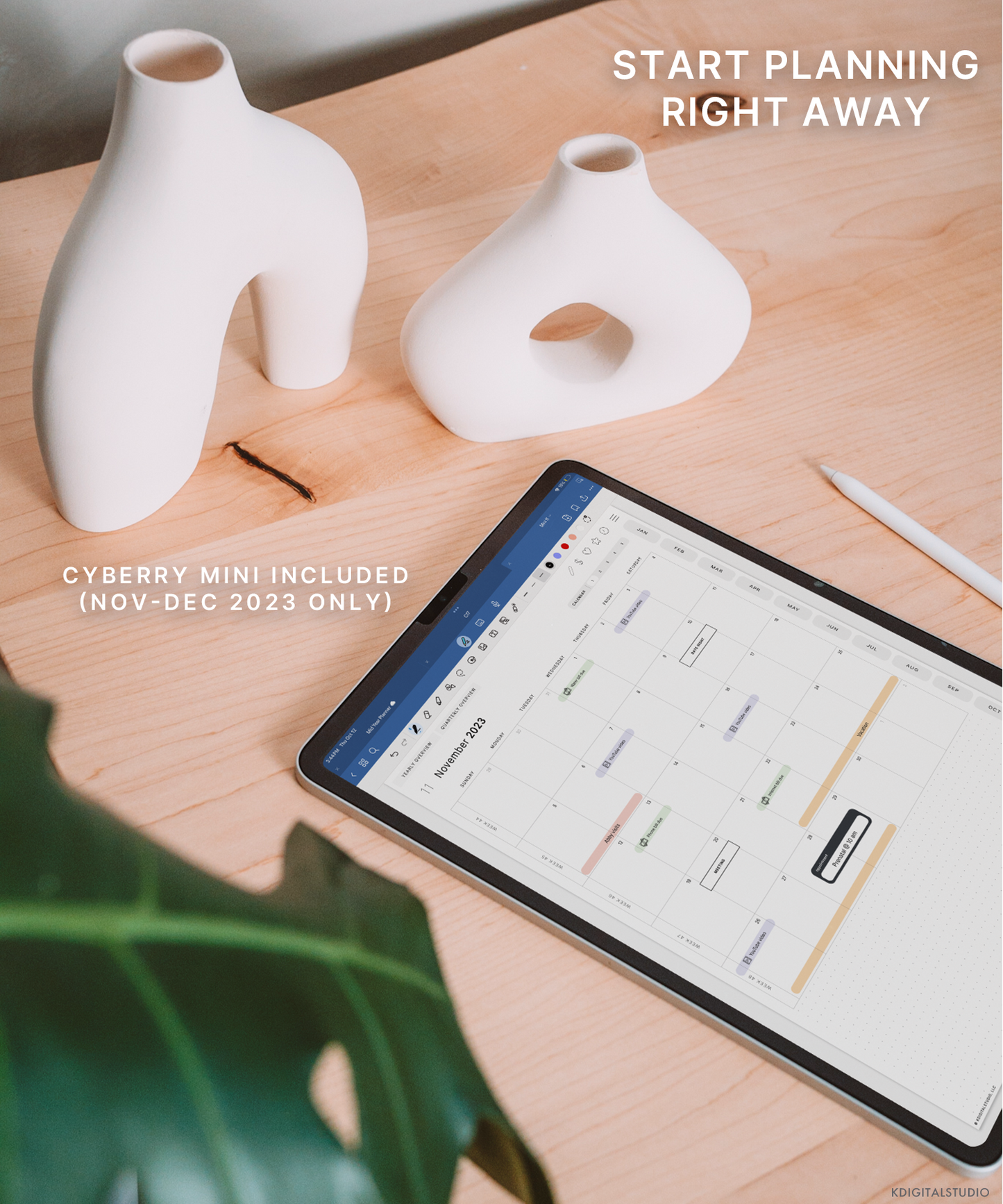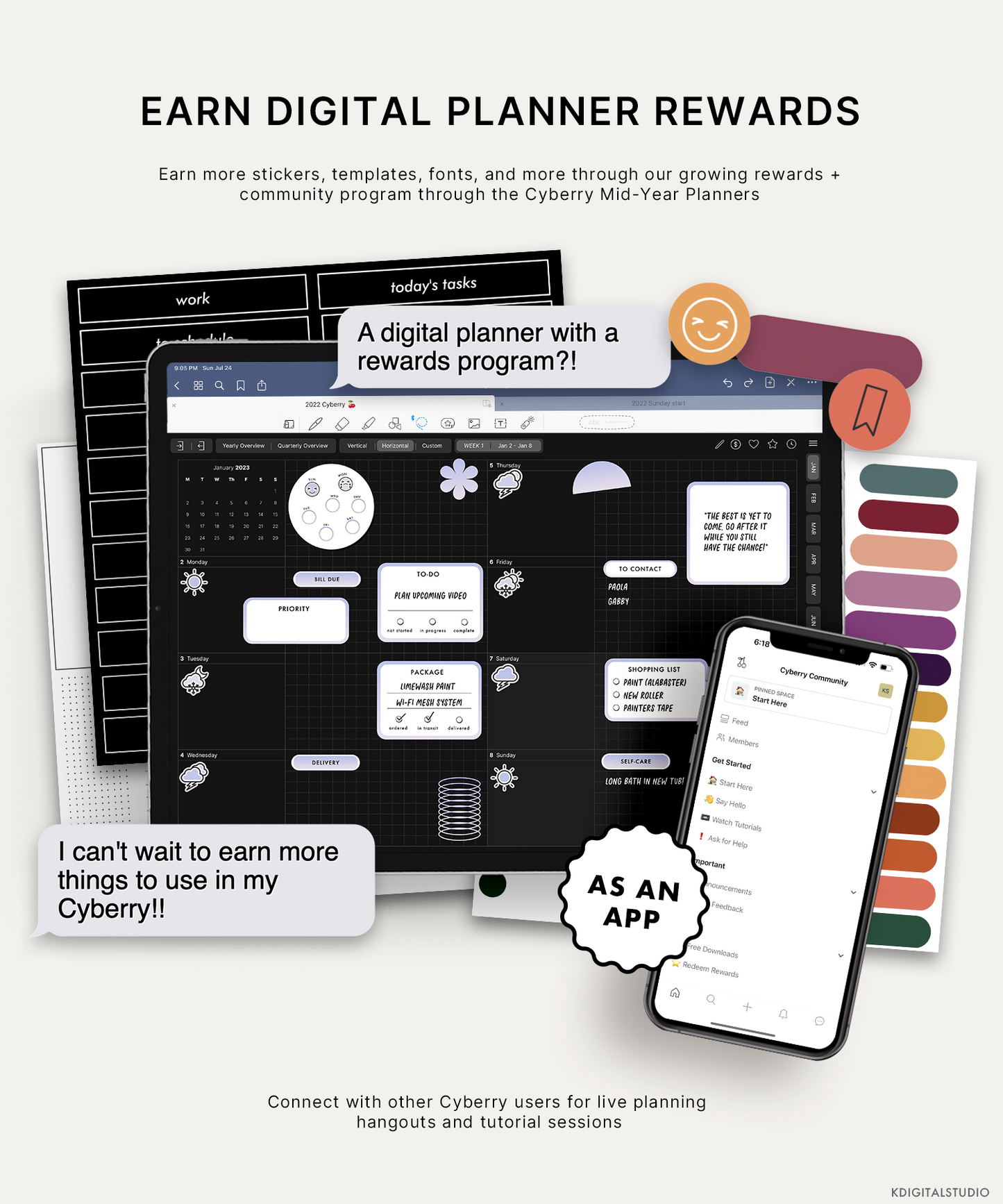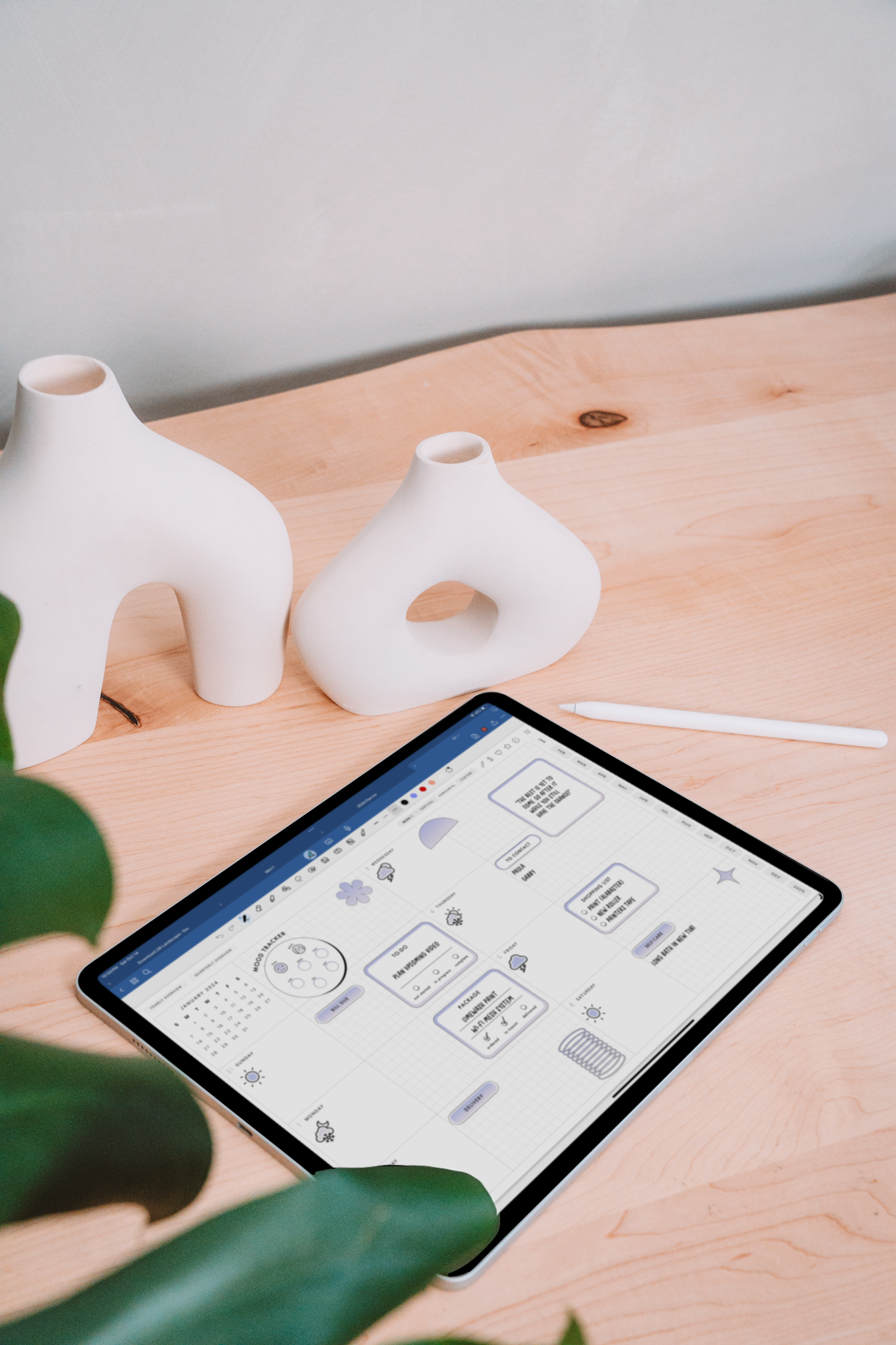 Effortless planning
A minimal design in neutral colors to seamlessly blend and "become one" with your iPad or tablet. Stays out of your way, so you can focus on what's important.
Intuitive hyperlinking
Advanced links throughout every page of the planner, allowing you to easily jump between the pages of your planner. Never break your flow while planning.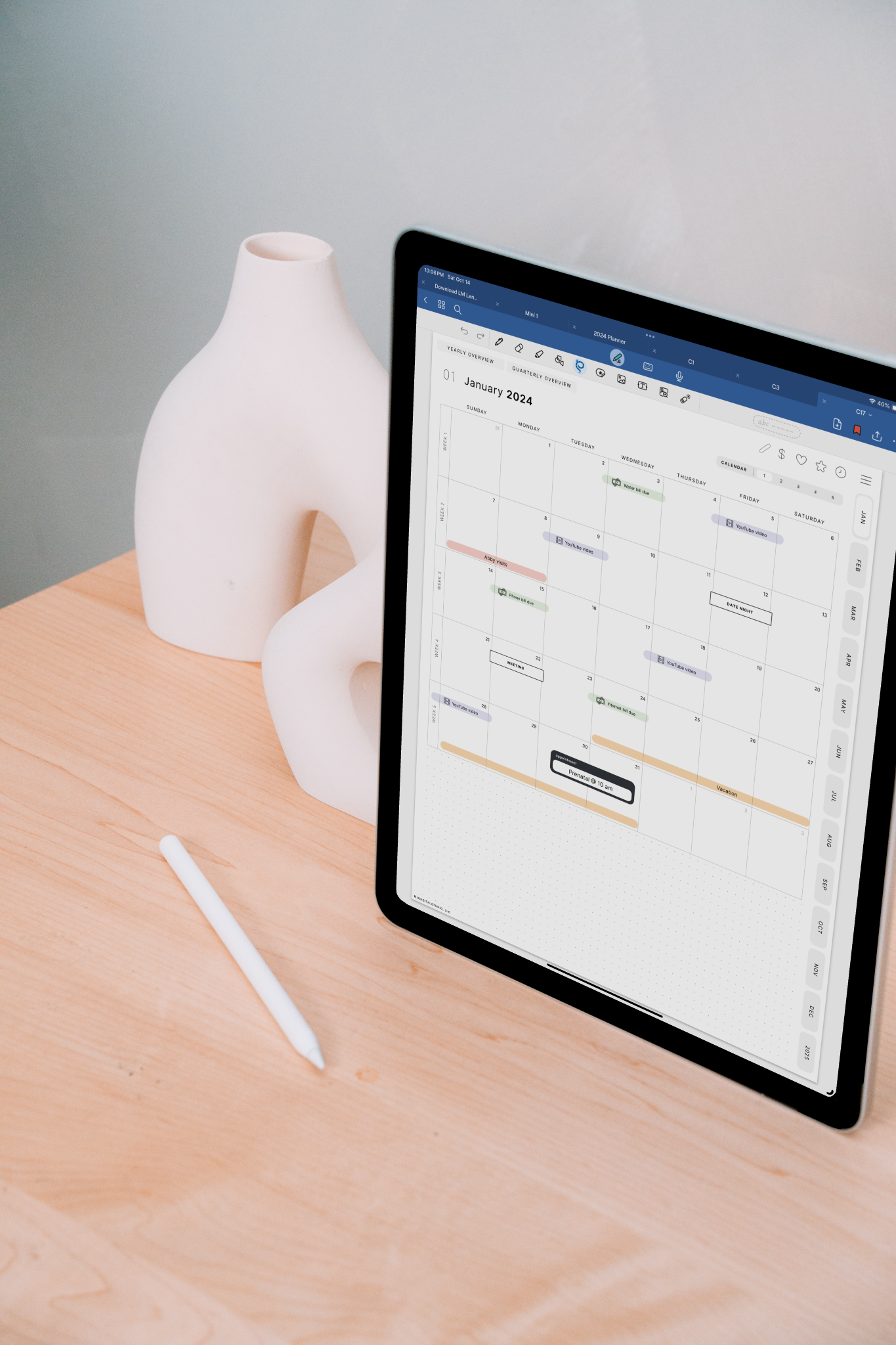 Community
Includes access to a premium community, featuring rewards, bonus content to level up your planner, live planning sessions, and other Cyberry users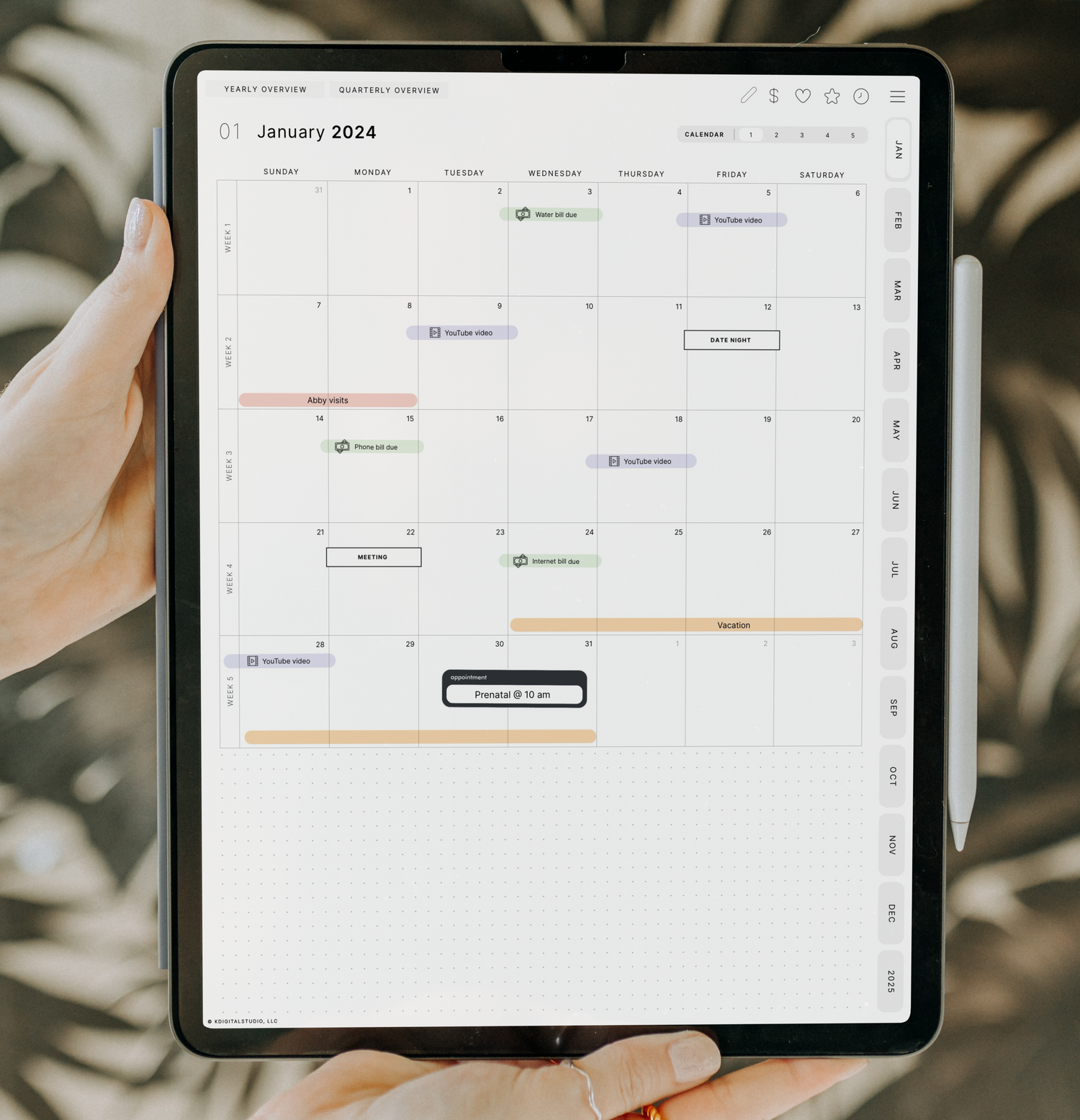 Quick Menu
Each month features hyperlinks for notes, finances, health & wellness, goals, and review
Daily Pages
Tap the date to jump directly to a daily page. Plan your way!
Multiple Weekly Pages
Choose between vertical, horizontal, or your own custom weekly by tapping the top, center, or bottom of each weekly box
Multiple Monthly Calendars
Five monthly calendars to separate work life from personal, or your partner's schedule from yours
Your questions, answered
What devices and/or apps are compatible with this planner?

Refer to our Help Library for more information about device and app compatibility.
Should I get landscape or portrait?

This will come down to personal preference! If you use your iPad more in landscape, purchase the landscape orientation and vice versa if you use your iPad more in portrait.

Note: The landscape version of digital planners will inherently have more screen real estate.
Should I get the Apple Calendar & Reminders integration?

If you have an iPad (an iPad is required), actively use Apple Calendar or Reminders, and would love being able to set reminders or schedule events without leaving your digital planner, then you'll likely benefit from adding the integration!

If you decide later that you'd like the integration, you will need to purchase the planner again.
If I get the integration, will it work with other automated calendars (Google, Fantastical, etc)?

No, this integration only works with Apple Calendar and Apple Reminders.
Will this digital planner automatically sync with Apple Calendars & Reminders?

No, it will not. Whatever you write in your digital planner will not automatically appear in your automated Apple Calendar or Apple Reminders.

The integration we offer is simply a means of interacting with Apple Calendar or Reminders quickly without having to leave your digital planner. It still requires you to manually add the events or reminders yourself.
Where do I choose Monday or Sunday start for my planner?

Both Monday and Sunday start planner variants are included with your purchase. You'll choose between Monday and Sunday in your Download Library PDF that you'll receive after purchase.
How do I customize the weekly page?

You'll be prompted to customize your weekly page in the Download Library PDF that you'll receive after purchase. There is also a tutorial that walks through customizing your planner via the Download Library.

Note: You cannot customize the weekly page in the "mini" version of this planner.
How much space will this planner take up?

Not much at all! Given how advanced and intricate Cyberry is, we worked hard to dramatically reduce the file size of the planner over its predecessors. You can expect your planner to be around 15-20 mb on initial download.
There seems to be a price difference with my planner selections?

Yes. Apple Calendar/Reminders integration for portrait and landscape planners are $34.99 USD, whereas planners without this integration are $29.99 USD.
How do I join the Cyberry Community?

There will be a button to join the Cyberry Community inside your Download Library PDF that you receive after purchase.
I accidentally purchased the wrong selections for this planner

Sorry to hear that! Unfortunately, we cannot offer refunds, returns, or exchanges on digital products. You must double-check your cart before following through with your order as KDigitalStudio is not responsible for failure to make the correct selections.
Disclaimer:
Dark mode planners may exhibit a "flash" when used in certain applications when jumping to different pages. This does not occur in all PDF, note-taking apps, but it does occur in many. A flash has been known to occur in GoodNotes. KDigitalStudio is NOT be responsible for any issues you have with "flashing" in dark mode planners as this is dependent on the app you use.
Choosing a selection results in a full page refresh.
Opens in a new window.